I'm uber-thrilled to be able to share that the rest of the Blackthorn series has officially been signed! I'm just as thrilled to be able to announce that Blackthorn will remain with its original publisher, Bookouture.
Having been inundated with queries as to how many more books there will be, I can now reveal that Blackthorn will consist of eight books in total – that means there are four more to come!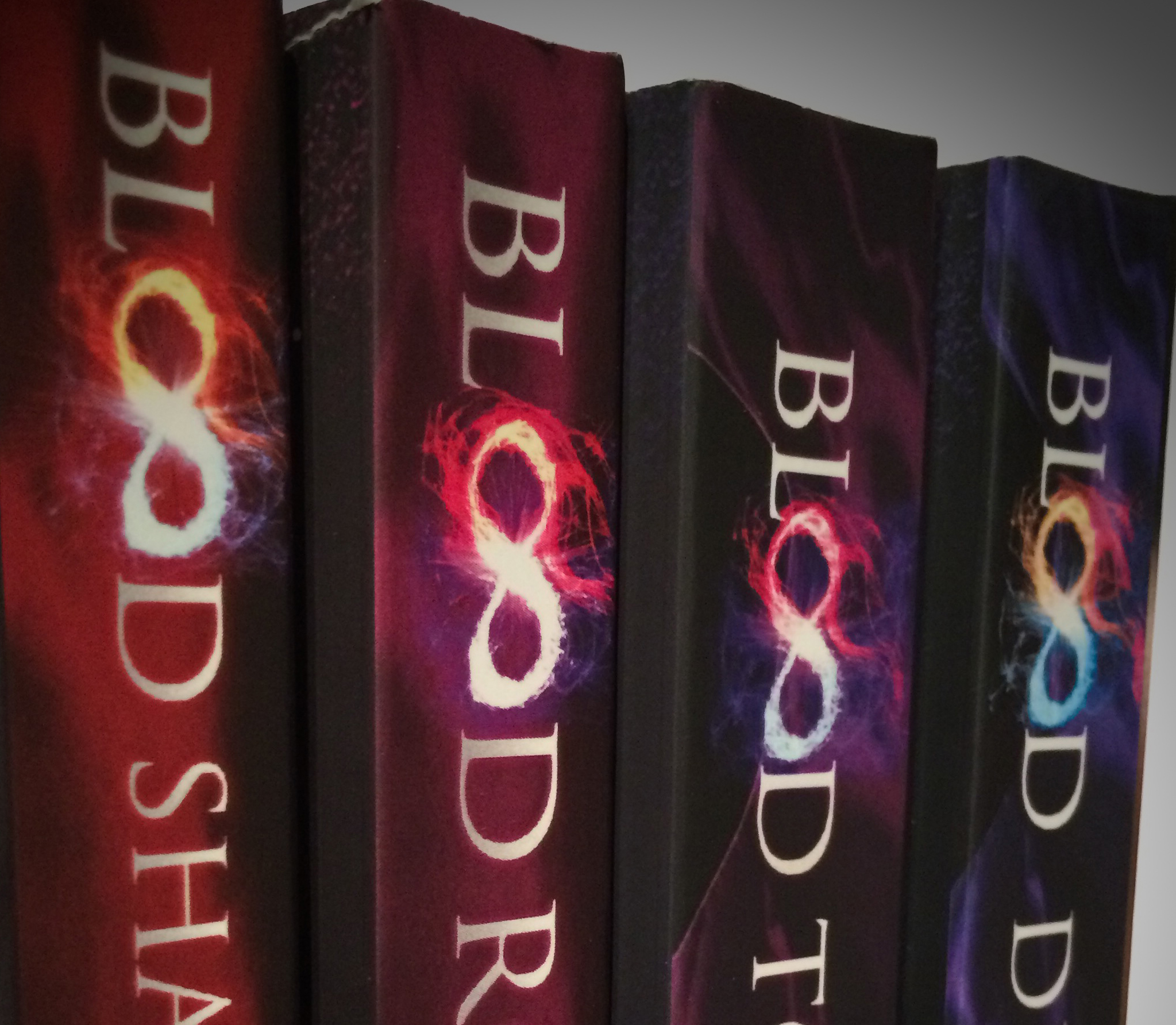 Above: We're halfway there… spot the "unintentional" giveaway clue on the spine of the books. 
It feels like a long time since I shared Bookouture's interest in the rest of the series. Before signing a contract though, there's a lot to take into account. Firstly, I needed to make a final decision as to how many books there would be (the final book could have been broken into two parts, but we opted for an epic finale). I also needed to think carefully about the timescales for when I could deliver those books. Most of you will know that, like most authors, writing isn't my only job. So when Bookouture offered me a contract for the rest of the series, I had a huge decision to make. Six weeks ago, I resolved to step out of teaching for a while and focus fully on finishing writing Blackthorn. So, as of 2015, I will be a full-time author for the first time ever – and Blackthorn will be receiving my undivided attention all the way through to its conclusion.
Blackthorn has certainly come a long way since its inception back in 1996 when, having just moved to a big city hundreds of miles from all I knew, I got lost on my way home one night. I then spent fourteen years dipping in and out of developing the series amidst working on other writing projects and teaching full time. Back in 2010, I finally bit the bullet and entered the opening chapter of Blood Roses into the international online romance writing competition, 'New Voices'. Although up against thousands of entries, a combination of editors' decisions and reader votes saw Blood Roses through to the final. A year later, Blackthorn made it to the final again – this time with Blood Shadows.
For those who don't know, it was Blackthorn's success in that competition that brought me to the attention of Bookouture. I'd just started submissions when, out of the blue, they got in touch. A three-book deal soon followed. Just over a year later, back in January, they signed Blood Deep. Blackthorn has gone on to sell tens of thousands of copies, with new readers finding the books every day. It doesn't mean I've ever taken the signing of the rest of the series for granted though. That's why it still felt momentous signing the last of the books over.
So here they are in Blackthorn's full line-up: all your heroes and heroines who now have their work cut out in bringing down the oppressive system that surrounds them. I can't wait to share how they're going to do it!


And on that note, I'm also pleased to be able to reveal that Blood Dark will be released next Summer* (2015)! Yes, I know it probably feels likes ages away, but I'm afraid a lot of work goes into publishing a book even after I've submitted it. Fingers crossed I'll be able to persuade Bookouture to give away an early book or two like we did with Blood Deep.

Of course, I'll also be sharing a summary of 'the story so far' before Blood Dark's release. I get the feeling it might prove useful by then!
Thanks, as always, for your continued support. xxx
*That's UK Summertime.